Entrance Hallway, Flooring and Door - Thame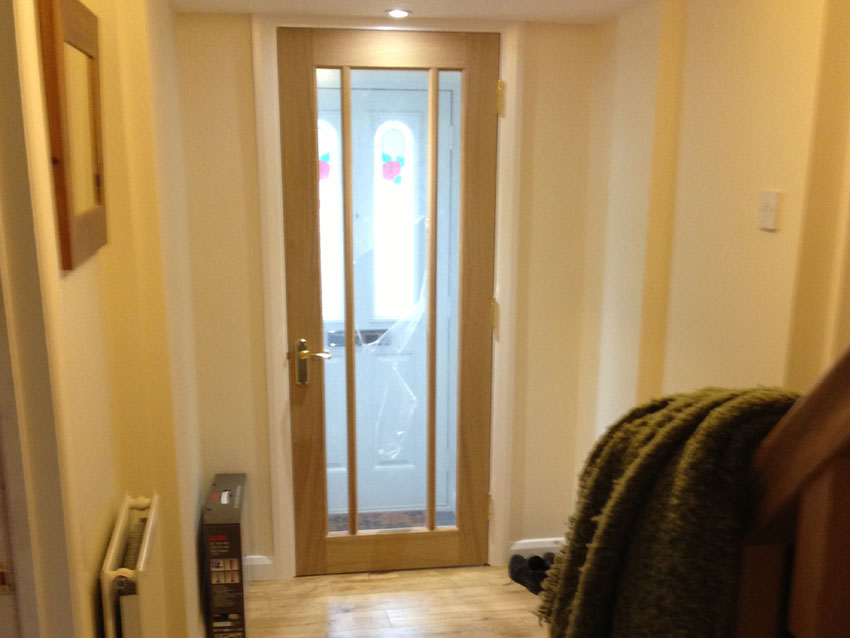 This customer wanted to create a special impression for anyone entering their home in Thame, and we obliged with a complete revamp of their front entrance and hallway.
They say that first impressions are the most important, and that is certainly the case when people visit your home. It's also important to you as a homeowner because you want to be able to come home every day to a home that is welcoming and very much a part of you.
For this project, we wanted to create a clean and bright area, and so we fitted a door with large glass panels to bring as much light in from outside as possible. All of the interior walls and ceiling were refinished to be super-smooth, and we fitted recessed spotlights above the door to make sure the area can still be lovely and light even when the sun isn't shining.
Finally, a high quality oak floor was fitted and the final bits of decoration completed, and the front hallway now has the bright, warm and welcoming feel that the customer was looking for.
If you're not happy with some of the rooms in your house, especially the entrance areas and hallways, contact DNA and we'll be happy to come to your home to discuss all the options with you. From new windows or skylights, to clever lighting and decoration, we have a rnage of ideas to brighten and modernise your home.